Robert Ryman, Untitled, 1974
The permanent collection on levels 4 and 5 of the Centre Pompidou is now open for visitors. A new, open staircase now makes the transition between modern and contemporary art more comfortable, encouraging reflection as we move from one part of the twentieth century to the next. And because the staircase leads directly to the central corridor of each space, the first thing I noticed about the new hanging of contemporary (postwar) art was the replacement of Warhol's
Ten Lizes
with a Robert Ryman triptych,
Untitled
, 1974. Placing the all white piece in prime location is a courageous move on the part of the Pompidou Centre. Unlike
Ten Lizes,
Ryman's white plexiglass works are not instant crowd pleasers. I imagine that many people who stop to examine the work will not know what they are meant to be looking at.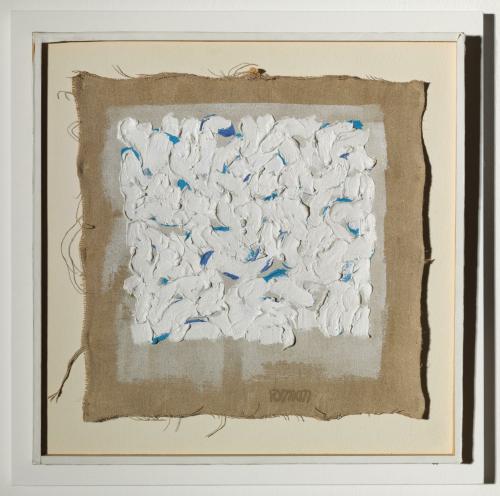 Robert Ryman, Untitled, 1962

For others however, Ryman's flat white works can be approached as a challenge. Once we get past the hesitation that comes with determining their status, the works are infinitely fascinating. As we move around the space in front of the one at the Pompidou, the triptych never sits still. The panels change from white to cream to a tinted grey, from reflective to absorbent of light, and as the work catches the light, together with the movement of our eyes, we notice the individual panels appear to be different sizes. And then, when we try to photograph it, the white picks up the ultra-violet light of the gallery illumination and the panels become coated in a blue shadow. A similar refraction causes another single panel painting, Criterion, under plexiglass to become striated with a series of vertical bands of shadow when seen through the iphone lens. If it weren't for the fact that the bands continue beneath and above the painting, we might mistake the work for an Agnes Martin image when looking at the photograph the next day.
Kazemir Malevich, White on White, 1918
What I love most about Ryman's white paintings is the difficulty of looking at them. Not only is it difficult to know what we are looking at and where to focus, but they also hurt the eyes. White has a way of pushing us back with its cold distant definitiveness, and when Ryman finishes the work by placing it under plexiglass there is nothing inviting us closer. But in a later Untitled white painting from 1962, Ryman softens the blow. In this expressive early canvas, Ryman weaves slithers of blue into short, thick brushstrokes, giving thickness to white paint and reminding us that painting is an object. This is accentuated by the fact that the paint, the prime and the canvas are mounted on cardboard and framed, layer upon layer, under glass, as if it was an object in a display case.
Robert Rauschenberg, White Painting [Three Panel], 1951
The privilege of white painting by Robert Ryman, Agnes Martin, Robert Rauschenberg, all the way back to El Lissitzky and Kazemir Malevich is that white can't be reproduced. It can be created, but not reproduced or represented by another medium. White painting looks like nothing in a photograph. Or white looks blue, or catches the light that supposedly illuminates it, light that discolours the white, but is meant to be doing the exact opposite. And so we have no option but to see in the flesh that the object of painting is the paint itself. In this sense, white forces the recognition of painting more than any other colour. Yes, a lot of works don't reproduce, but very few reproduce as nothing – only white can do this. The fullness of white in the flesh that renders Ryman's work an optical experience, goes together with the inability to reproduce the white paintings, to make art that is not only reduced to its ontological components—paint, light, seeing—but in doing so, it will always resist commodification. For me, that makes Ryman's white paintings great.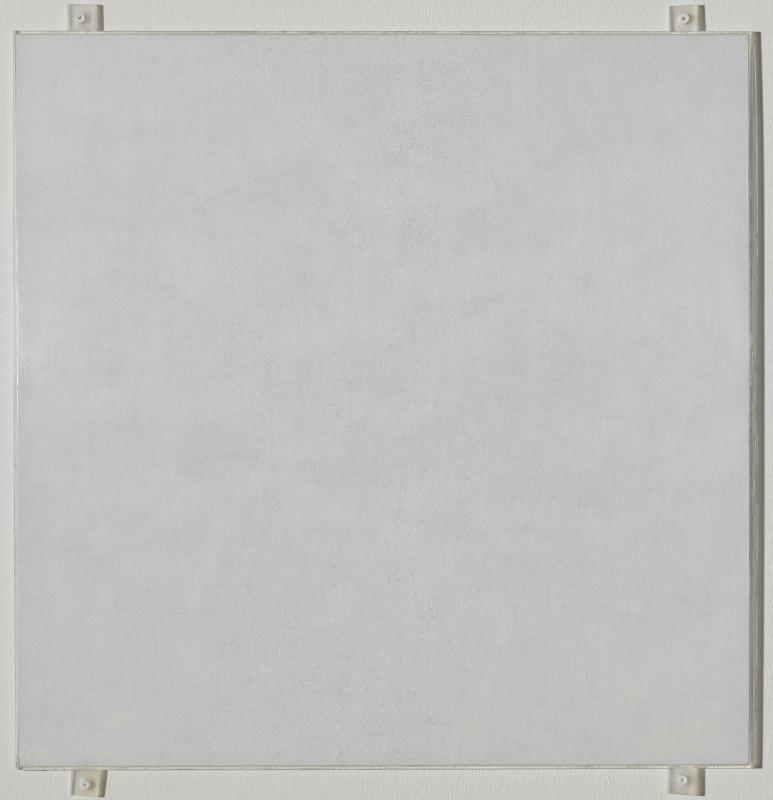 Robert Ryman, Criterion, 1976
I say all of this, and yet today, nearly sixty years later, the experience I have with these works is one encouraged by lush and dense paintings that are more expressive than ever. And so, I have to admit, some of the white works are anything but empty and nothing. In another contradiction that I like to think the artist would scoff at, in 2015,
Ryman's
Bridge
(1980) sold for $20.6 million. I guess then that there must, after all, be some value in white.