Richard Mosse, Platon, North Kivu, 2012
These photographs and the six screen installation (not on exhibition at the Photographers' Gallery) do everything that photography is meant to do. On display as one of four photography exhibitions shortlisted for the Deutsche Börse Photography Prize, 2014, Richard Mosse's Enclave is the obvious winner. These complex and very beautiful photographs fulfill all expectations of photography when they push its limits formally, conceptually, aesthetically.
The sampling of images on display at The Photographers' Gallery represent the larger exhibition at the Irish Pavillion in the Venice 2013 Biennale. The series comprises landscapes and single subject portraits that are formally provocative, aesthetically exciting, political, violent and always beautiful. The most striking thing about the images is their use of a discontinued Kodak stock surveillance film, invented for American Military reconnaissance missions in World War II, and used as for camouflage detection. The images are dominated by magenta, cyan, lavender, crimson and hot pink. The uniqueness of the military film stock is its register of an invisible spectrum of infrared light, turning green landscape into an array of glaring colours.
Richard Mosse, Poison Glen, 2012
A river runs through a valleyed landscape in Platon (2012), a soft mist hovers over distant hills of the eastern Democratic Republic of Congo where 5.4 million people have died of war related causes since 1998. The hills are bathed in hot pink, the river running through the valley is fluorescent blue. The result is that this and other of Mosse's landscapes appear cancerous, we notice that life is extinct, that something deadly has swept through an otherwise idyllic world.
Richard Mosse, Madonna and Child, 2012
The land is known to be rich in rare earth minerals, like gold and cassiterite. It is not just fertile, it is laced with wealth, power, and thus an open invitation to corruption, anarchy, and eventually, war. Mines are controlled by rebels who proudly feature in Mosse's images, performing their power and importance. The Congolese National Army, rebel militia, and warring tribes fight over ownership of the land, their violence extending to rape of women, murdering civilian populations, all in the interests of staking a claim to the land. A struggle that is never actually seen in Mosse's photographs is nevertheless made undeniable by the aesthetic struggle of unnatural colours in what might otherwise be an untouched world. These hills are blanketed in violence and corruption.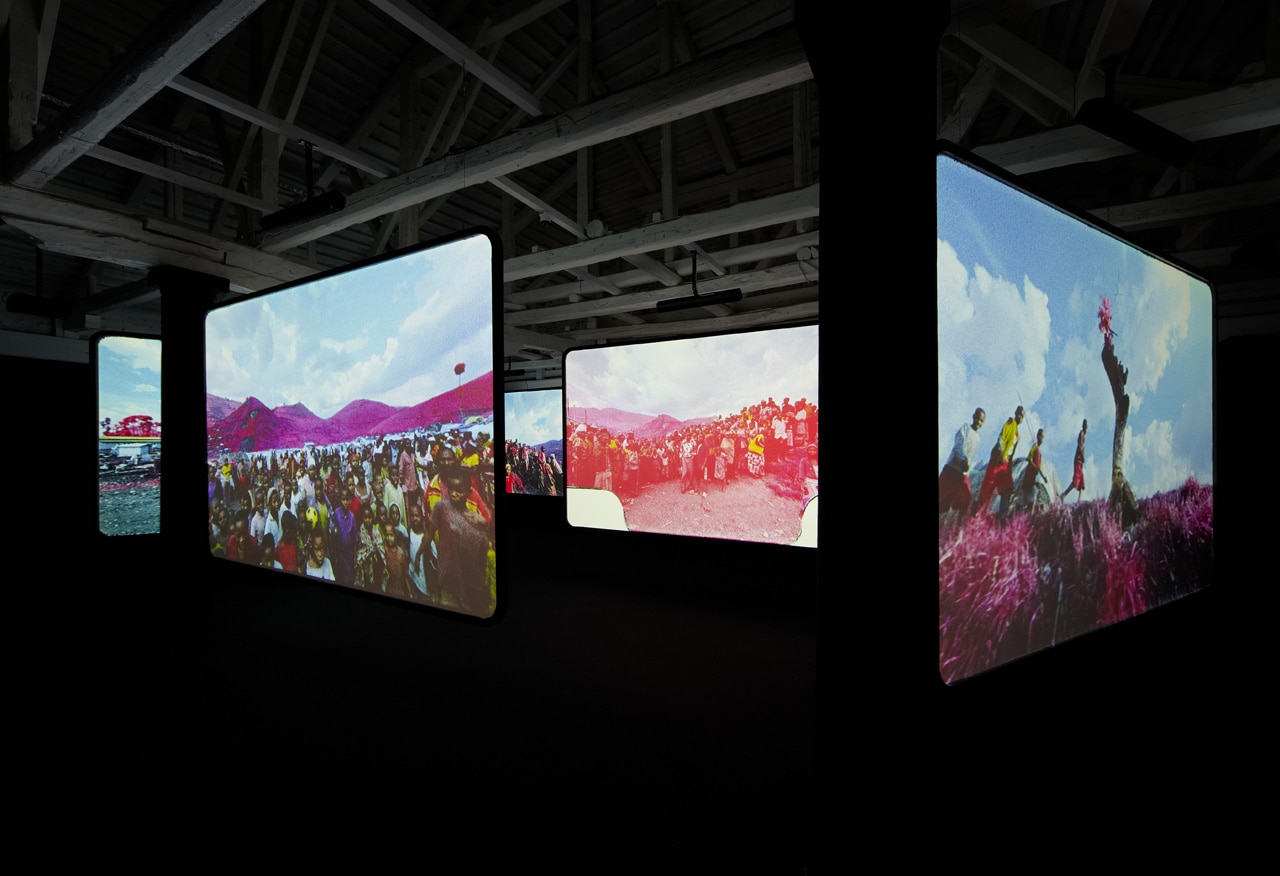 Richard Mosse, The Enclave, 2013
Six Screen Installation
Ultimately, Mosse's photographs are about what we cannot see, what is not seen, what is not acknowledged b
y documentary photography. What I find so striking about this work is that it not only challenges the conventions of war photography, but that everything daring is translated into the colour of the resultant image. Where war photography is usually done by journalists and photographers used to bullets whistling past their ears, who scurry around with the soldiers, Mosse's are made together with rebels who have no visible enemy, rebels who actually perform for the camera, creating the drama in their poses where it is otherwise invisible to the eye. And in turn, Mosse's images visually penetrate and make manifest the insidious spread of disease, war and violence, all of which is begun by greed.
This work is profound, political, devastating, engaged on every level, it deserves every recognition.