Michael Craig-Martin
Installation View @ Gagosian Gallery London
This exhibition sees Michael Craig-Martin's oversized steel object outlines indoors for the first time. The multi-colored works gleam brightly in Gagosian's King's Cross spare white warehouse space. Reviewers of the exhibition were disappointed that Craig-Martin did very little new. However, as I was previously only familiar with his paintings, I found the sculptures intriguing. It's difficult to describe them. The gallery blurb calls them monumental, but that doesn't capture their delicacy and technical precision. I prefer to call them outlines in steel of household objects. They embody none of the complex meanings of monumentality as a term, and indeed, are doing something different from sculpture as we know it in the public realm.
Michael Craig-Martin
Installation View @ Gagosian Gallery London
I was fascinated by the fact that the objects made of steel stood without other support on their almost razor thin edges. My first thought on entering the space was that the works must be about balance. Then, the fact that they are made of steel, one of the most hardy and stalwart materials of the twentieth century gave them a nice irony. And, my next question was, why did the artist use steel? What does steel enable the objects to do that other materials wouldn't? These are hard edged, potentially gaudy, not quite replicas of household objects. When we look at them they are two dimensional, like coloured drawings. Then as we approach, we find we can also walk through them, suggesting that they create multi-dimensional space. They themselves may not have dimensionality, but they are representations of three-dimensional objects that mark out three-dimensional spaces we inhabit. Thus, their illusory quality adds another level of irony. Lastly, and perhaps their most intriguing quality: the works are sculptures as oversized representations of something else (household objects), taking them into discourses of monuments. And yet, they completely undo all references to monumentality thanks to their hollowness and their two-dimensionality. Effecrtively, the works are both representations and not representations.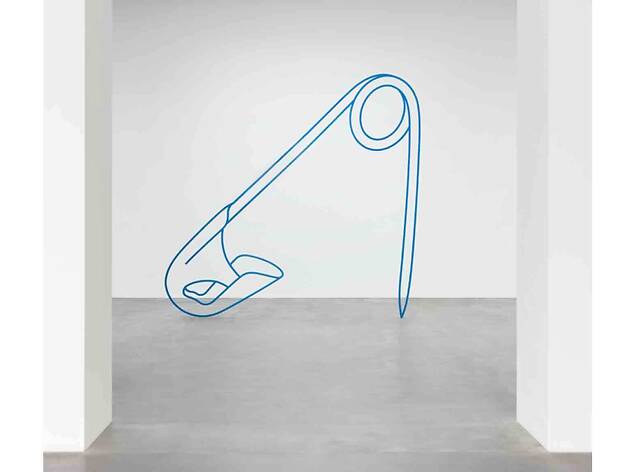 Michael Craig-Martin, Safety-Pin, 2019
The sculptures speak about the uselessness of art, and though we desire to do something with them - walk through them, look at them and make sense of them, the objects are also useless. They could not be used as a safety-pin, an umbrella, a corkscrew and so on. As works of art, for all these reasons, they are simultaneously sculptural representations and abstract. In addition, the pretty colours make them delicious to look at, creating or perhaps speaking about the desire for the object to be consumed.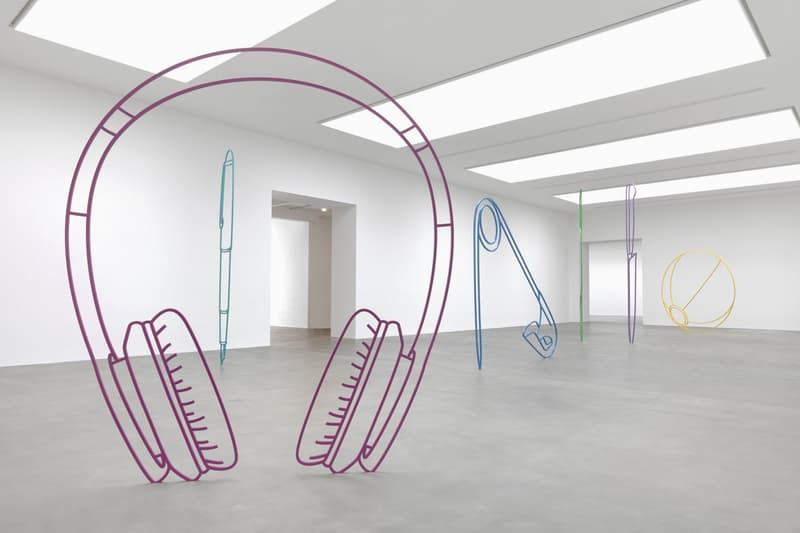 Michael Craig-Martin, Installation view @ Gagosian
Apparently, the same kind of works have been installed outdoors on the grounds of gentry estate complexes. They have been placed in the gardens such that they become extremely disruptive because, first, they are oversized and these stately gardens are always made in an era when everything is designed to be the size of the human. And second, Craig-Martin's sculptures are exaggerated contemporary where all the other additions to such gardens are always old and weathered. The colours, the size, the steel material, everything about them is wrong for the environment. By comparison, in the gallery space they don't necessarily dialogue with their environment or each other, but rather, speak more to concepts of sculpture, painting and drawing.