Cité de la Céramique à Sèvres, 1740

I enjoy being in Paris in August, when the Parisians are gone to their destinations by the seaside, and every storefront in my street has a hastily written sign in the window with the dates of their vacation. If there is one drawback about being in Paris in August it is that I sometimes run out entertainment. Not being a fan of Paris' tourist traps and hooked into a world that follows the same season as every other Parisian business and shop, pickings get slim in August. But as often happens, I made a new discovery.
Laurent Le Deunff, Totems, 2007
At the suggestion of Time Out Paris for Londoners, on Sunday, I got on the bike and rode the 20k out to Sèvres where about 30 galleries have taken up space in the gardens of the Cité de la Céramique. The museum is attached to the famous Sèvres porcelain factory, up the road (conveniently) from Madame de Pompadour's Bellevue Palace. The magnificent 18th century buildings were constructed at the instruction of Louis XV to house the largest manufacturer of porcelain in Europe. The whole site has that industrial feel to it, even though the making of porcelain doesn't require big chimneys and oversized machinery. It's a strange place, nestled in the not so showcase world of beyond the péripherique Paris.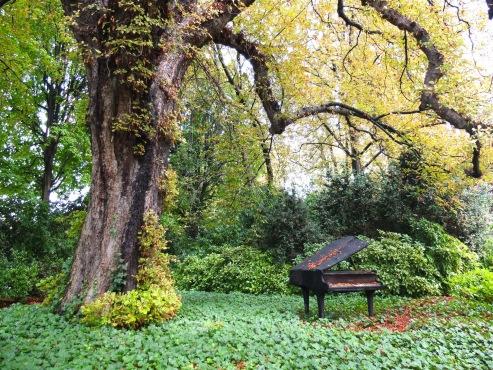 Jochen Dehn, Freedom is Just Another Word for Nothing Left to Lose, 2014
In the gardens, the contemporary sculptures that were not made as outdoor installations feel completely at home. A wooden piano by Jochen Dehn ('Freedom is just another word for nothing left to lose', 2014) looks so much integrated into the foliage, and lichen-covered tree behind that it is difficult to believe it has ever lived anywhere else. There is a peace and an eeriness to this relatively small sculpture garden, but it is still and mysterious, in a way that a landscape transformed by art should be. Once inside the garden I felt submerged in a timeless world of art and nature.
Ernesto Sartori, Une Multiplication, 2014
Some of the works fit perfectly into the environment, others such as a Japanese style capsule hotel bed, seem very out of place. [Atelier Van Lieshout, 'Dynamo Capsule Hotel', 2010)] A Jimmie Durham piece, "Thinking of You" was Durham's usual fun and games as a bronze bird sat atop a high perch. "Une Multiplication," by Ernesto Sartori sits quietly outside one of the old factory buildings. Everything about it is unnatural and artificial and yet its cobalt blue blends in so nicely with the still air of a factory not in operation on a still, late summer afternoon.
Markus Lüpertz, Herkules Entwurfsmodell 11, 2010
As visitors enter the grounds of the ceramics museum we are greeted by two of the cast iron Hercules figures by
Markus Lüpertz. They are bright and colourful, confronting and disturbing, the one with his leg broken off, the other without an arm. Their faces distorted, these are the victims of a world that distorts and destroys. But like much sculpture in this kind of environment, their evocation of quite reflection and stillness made them haunting, at peace. They are true heroes, contradictory in nature.
Across the Seine to Sèvres
As I looked across at Sèvres from the other side of the Seine on my way home, I was reminded of how much a showcase central Paris really is. People always talk about how beautiful Paris is, and it is, but it's also good to leave now and then to be reminded that the minute you venture outside of the centre, it's a rather ordinary place. The detritus and decay of an industrial era looks very similar to its counterparts elsewhere in Europe. Sèvres is a small oasis in the middle of a not always attractive neighborhood. For that, it is a jewell in Louis XV's crown, well worth a visit.